Monday, April 30, 2007
Eugene Cho
, another local (not as well known) pastor who has posted on the same topic, but with respect and love.
Wednesday, April 25, 2007
This morning, one of them,
Robert Scoble
, posted a
short ditty trying to define Web 2.0
. In the tech world, lots and lots of people throw that term around, companies develop business strategies around it, investors throw down huge bucks for it . . . but not very many people can actually tell you what it means. A lot of people use the term in ways that make web developers want to pull their hair out, because they're so off base. Scoble gives the ol' college try this way:
Web 1.0 was about pages. URLs.
Web 2.0 was about users. Adding them onto corporate pages. Wikis. Blogs. Myspaces.
Web 3.0 is about getting rid of pages altogether. Being able to make the Web YOU want or need.
But, Scoble also links to another tech geek blogger who muses on the question. Different responses over there. Whatever the case, I've gotten the distinct impression that most web developers would say something like, "I can't define Web 2.0 for you, but I know it when I see it."
So now I come to the question: What is missional? Lots of people are using the term these days in the Church. Few could give you a concise definition if you asked them. A lot of people would give answers that seem well off the mark. A lot would say, "I can't define missional, but I know it when I see it." There are increasing attempts out there by some very smart people to define it in clear ways . . . but the ones who say, "I know it when I see it," may not even care - it's more about living into it than defining it. Ultimately, there will be people who don't "get" missional, but say the word all the time. Frustrating or not, it's still more about living into it than having some sort of linguistic power over definitions.
Labels: culture, emerging church, missiology
Monday, April 23, 2007
Here's some encouragement for you to do what I just did . . . go buy
The Cobalt Season
's new record! I can't wait to hear the yummy goodness.
Labels: culture, friends, music
The anniversary to which I refer might be cleverly referred to as my "blogoversary." Yesterday was the five year mark since I started this here blog. I've changed the template several times, but have been pretty consistent in bringing random tidbits about life, culture, theology, and mindlessness in a way that has produced a stunning following of at least 4-1/2 readers.
I had intended to celebrate the anniversary by announcing that I was shutting the ol' blog down . . . mostly because I've got a new one in the works. Alas, I had a more pressing writing project to complete and wasn't able to get the new blog up and running in time. Perhaps over the next couple weeks I'll manage to find some time to finish polishing it up. Until then, I'll continue posting here.
Labels: blogging
Am I cranky this morning, or just over-tired?
Saturday, April 21, 2007
BBC News is reporting
on a concrete wall being built in Baghdad:
Once the 3.6m (12 ft) wall is finished, people will enter and leave Adhamiya through a small number of checkpoints guarded by US and Iraqi forces.

The US military says the barrier is the centrepiece of its strategy to end sectarian violence in the area but insists there are no plans to divide up the whole city into gated communities.
U.S. taxpayer dollars hard at work to re-create a situation that clearly didn't work well in Berlin? Decide for yourself . . . this just seemed a little on the ironic side to me.
Labels: politics
Friday, April 20, 2007
While at the breakfast, I got to talk to some good folks, in particular, about the Church in Latin America. Good times.
During the "meeting" portion of the breakfast, some good, encouraging things were said. But mixed in with them were some things that made me scratch my head.
Here's an example: "We need to help Christian in North America rethink church. What is it? A building? A worship service? What? We need to be able to show people that church can take forms other than the normal model we're accustomed to. Small gatherings of people in informal settings can legitimately be the church . . . as long as they're fulfilling the five purposes of the church . . . "
I was tracking happily with that, right up until the last line . . . five purposes. Ummmm, o.k., so if I'm supposed to rethink the church, why can't I rethink the five purposes (which, by the way, were left undefined, and therefore, left me feeling sheepish and silly for not knowing them off the top of my head . . . clearly, I don't know my New Testament)? So, basically, church can look many different ways in many different contexts . . . just as long as it looks the same everywhere. Got it.
The meeting was enjoyable and well worth my time (even at 7:30am). It's just funny how in the midst of changing everything, we have the capacity to miss some things. I am certainly as guilty as anyone in this regard. God help us all.
Labels: denomination, innovation
Sunday, April 15, 2007
Transforming Mission
. It's long, thorough, and so good in so many ways. It's truly a remarkable work. Not an easy read, mind you, but well worth the work I put into it. I will re-visit that book many times in the years ahead.
As I was reviewing some of the notes I made on it this weekend, I came across something that was very curious to me. It goes a little something like this. If you were to take a poll of evangelical pastors in North America, and asked them what the three most important verses/short passages in the Bible are, what do you think they'd say?
John 3:16
,
Romans 10:9-10
,
Romans 6:23
,
Hebrews 11:6
. . . what else? I gotta think that
Matthew 28:18-20
would be included in the list that many many pastors would give. I don't remember how old I was when that was one of my memory verses, but it had to be pretty early - I mean, it's the Great Commission, right?
So imagine my surprise when I read Bosch write that this short passage of the New Testament that I and countless others have come to think of as central was basically not elevated to any special status as Bible verses go until about 60 years ago. Are you kidding? The way we talk, and preach, and organize our church activities, you'd think that this would definitely have been a biblical staple throughout the entirety of church history. Alas, it seems that it wasn't.
So my question is, "What does this mean?" Why is it that something the church has so organized itself around wasn't always given such importance? Not that it was dismissed or marginalized. I'm just curious about this. Perhaps that's not very interesting to you. It caught my attention, though, so I figured I'd share.
Using the Great Commission has certainly led to the expansion of the Church, it's fueled a lot of efforts at serious discipleship, and motivated many to take sharing their faith in Jesus seriously. Cool enough. But that stuff also happened prior to 1940 . . . what motivated folks then?
Labels: books, evangelism, missiology
Wednesday, April 11, 2007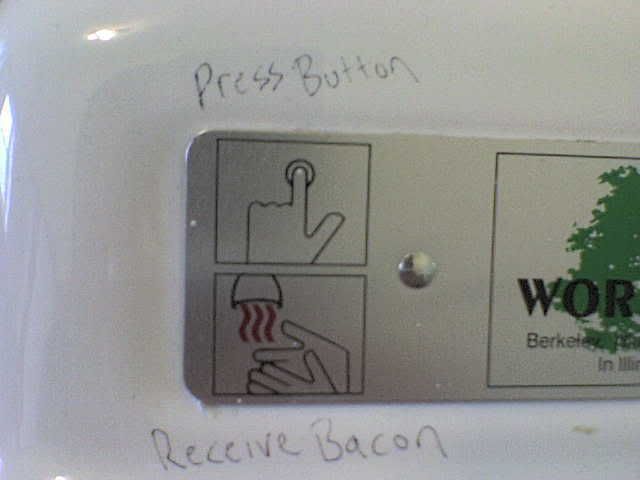 via
Tuesday, April 10, 2007
Interesting article
over at
Fast Company
on Mark Zuckerberg, one of the brainy founders of
Facebook
. Three years ago, he was a 19 year old Harvard sophomore. Today he's running a company that reportedly turned down an offer from
Yahoo!
valued at $1 billion. I know from working in a college environment how powerful this thing is.
It's a good illustration of how fast things move these days. From literally nothing to being the sixth most trafficked website in the U.S. in three years. Social networking . . . whatcha gonna do about it?
Labels: culture, innovation, technology
Monday, April 09, 2007
Seattle Craig's List
page and found this: "
Christian Nudists
." Call me a sucker (or a perv), but I did follow the link for the group description. Not much there . . . I guess what you see is what you get.
The shifts in weather have been an apt metaphor for life. In the face of some disappointing realities, I've been seriously considering a revamp of some projects I've worked on for the past year and a half. It would mean rapid change, a new flurry of work, and a new learning curve . . . oh yeah, and a lot of prayer and faith.
I'm coming down to crunch time on some school deadlines, so there's two big stacks of books and another two big stacks of journal articles consuming our dining room table. In this sense, I knew what was coming, and I've actually done a pretty decent job of preparing for it.
My parents, grandmother, sister, nephews, and niece are flying in for a visit tomorrow. This will be their first visit since we moved here, so that should be fun. Maybe after over two years here I'll actually go to the space needle for the first time, eh?
I enjoy the challenge of my job, and especially the creative freedom (and encouragement) I have to create incarnational environments and opportunities for college students. I enjoy school, with the push to read tons of books on a range of topics. I've enjoyed working with a couple church planting types over the past couple of months. I'll enjoy having family around. All that to say that I'm not complaining about the busy-ness or the pace.
I will say that I'm tired. In some ways, I'm not handling the fatigue and stress all that well. In other ways, I'm doing just fine. I think the thing that worries me in times like this is that if I'm going to be tired and stressed out, I want it to be over the right things. Am I giving myself away to what the Master would call good? Am I celebrating the Resurrection through hopeful efforts? Do I live into a hope that is alive, and do so in a way that stirs that hope up in others?
Much to learn, much more to practice. More love to share. More peace to proclaim. Much injustice to combat. Much walking to do.